This summer, I have come to the realization that although I have lived in Los Angeles for nearly two decades, I don't really know LA. I'm on the path to changing that though.

This past Tuesday, I attended Da Poetry Lounge, which I have been to in the past but I had never really walked down the streets near it. After Tuesday, I have a new outlook on Los Angeles. I was not in the most glamorous area of LA, but it was beautiful, nonetheless. With restaurants, thrift stores and other shops such as Johnny Cupcakes, The Hundreds and HUF, I felt inspired. There was this culture around me that I am not used to in my stomping ground of Los Angeles. Fairfax and Melrose is a place that I definitely plan to visit more often.

While on that side of town and waiting for Da Poetry Lounge to begin, the boyfriend and I stopped at a place to get some food.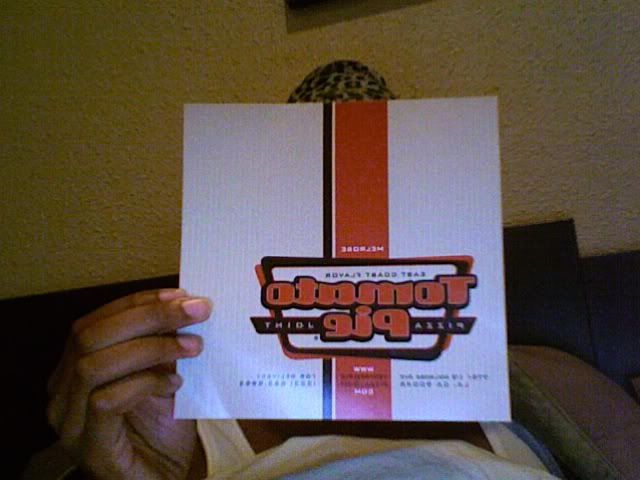 If you couldn't see that it's called Tomato Pie. I would describe it as a hole in the wall type of place. I probably would not have paid much attention to it without Derrick pointing it out.

I would like to think of myself as the pizza connesuir. It's my favorite food and I could probably live on it, along with water, orange juice, peaches and pineapples.




The pizza is no Round Table, which happens to be my favorite pizza restaurant, but it sufficed at the time. I can say that I have had worse though. For instance, I am not a big fan of Little Ceasars Pizza. It tastes really cheap to me. But you pay for what you get, right? Their large pizzas at $5 for goodness sakes!!

Tomato Pie aims to bring East Coast Flavor to the streets of Los Angeles. I can't say that I would recommend the joint to friends, but I'll give it a three out of five.

I wish I would've taken more pictures. Check out Tomato Pie. And if you're ever in the city, give it a try. You might like it better than I do.



-Deonna